Agot Jewelry
Is the result of an uncompromising love for nature and passion for artisanship. For more than twenty years of record of excellence, Agot Sterling Silver Collection is known for fine jewelry pieces that have stunningly unique designs.
Each jewelry piece is hand-crafted exclusively in sterling silver enhanced with hand-selected semi-precious stones, hand-picked Costa Rican river rocks and natural polished sea glass, pearls, hand painted antique ceramic and vintage buttons.
This philosophy of personal care and quality, guides every phase of Agot process, which transforms every jewelry piece into a unique work of art.
Agot. Fashion Collection

represents authentic craftsmanship
Each piece is individually hand-crafted conveying our passion for unique design.
It is used an exclusive process by firing a combination of metals to produce a special alloy with a rich, long lasting radiant finish.
The metal's rich golden color combined with distinctive semi-precious stones create the ultimate in beauty, luxury and design.
With great care, the finish will last for several years.
To maintain brightness, please avoid contact with rough surfaces and prolonged exposure to water and other liquids.

"Dear Adriana: Thank you for the beautiful custom necklace that you made for my wife's Mother's Day present. My family visits Costa Rica regularly from the U.S. so I knew my wife would love authentic Costa Rican jewelry. I am so grateful that I found your website. I knew the exact necklace that I wanted when I landed on your homepage and was originally disappointed to find out that the specific necklace was sold. I was unaware that all of your jewelry is one of a kind and custom made. Your direct involvement in helping me select a necklace that was equally amazing was priceless. It was only a few days before Mother's Day when I placed my order and you went above and beyond to ensure that the necklace was delivered in two days. My wife was absolutely ecstatic when she opened her Mother's Day gift and saw the beautiful necklace. SHE LOVES IT !!! Unbeknownst to me, my wife admired your jewelry the last time we were in Costa Rica so the gift was perfect. My wife and I look forward to purchasing more jewelry from Agot in the future and very highly recommend your exquisite jewelry. Sincerely, BW."

"Desde hace muchos años he seguido la trayectoria de Adriana. Cada pieza que tengo de ella representa un momento especial de mi vida, y es por eso que las llevo en mi corazón. La calidad, el diseño, los colores, cada joya es única y eso las hace especiales. Para Adri mi admiración y cariño siempre."

"AGOT has been my "luxury pleasure" since 2001, my  first bracelet was made of rocks polished by the sea, it is a gift I cherished. Since that moment on we have worked together showing the world what an amazing artist is AGOT; she has expose the beauty of Costa Rica in each piece. For me it represents the inspiration and love for color and textures with a glimpse of style; you make an statement every time you wear one of her unique pieces."

"Love this bracelet and ALL my other AGOT pieces!! The quality is fantastic and so very beautiful. I wore this bracelet on thanksgiving holiday with family and got many compliments! Will definitely be buying more pieces in the future. Thanks Adrienna for making such amazing jewelry".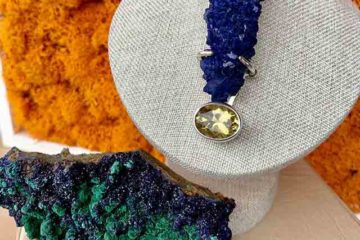 Azurite is a soft, deep-blue copper mineral. Azurite often occurs with "green Malachite", which may form green stains or specks on Azurite crystals. It is soft, therefore its Mohs Hardness…
Read More